Overview
SkyeFax is a Skyetel-engineered, fully reimagined, Fax system that insures exceptionally high deliverability while simultaneously being extremely fast. SkyeFax works by introducing a caching layer between your ATA and the PSTN in addition to retrying your delivery up to 9 times using different codecs, baud rates, and T38 error correction settings.
Please Note - SkyeFax replaces the Skyetel vFax product.
Enabling SkyeFax
To enable SkyeFax, simply navigate to your phone number and adjust the Call Routing to "SkyeFax:"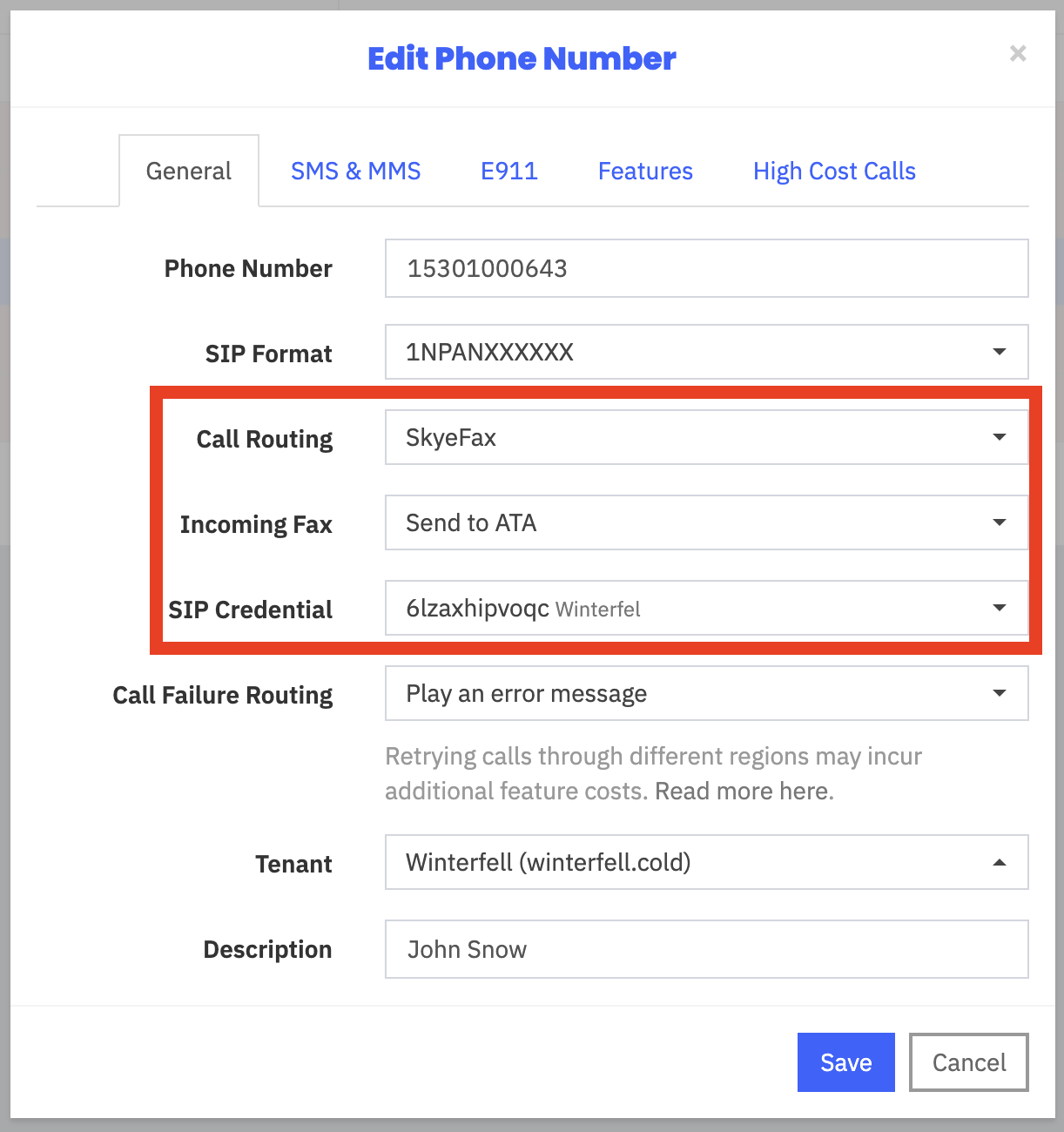 Once you configure your phone number to use SkyeFax, you can either send inbound faxes by email, or you can deliver them to your ATA.
SMTP Configuration
There are no default defined SMTP settings for your account. This is required for email delivery of the SkyeFaxes. If you do not specify SMTP settings in our portal, we will not be able to deliver faxes.
You can set this up by logging into your Skyetel Portal and clicking the Settings gears in the top right
​
and then defining your SMTP parameters: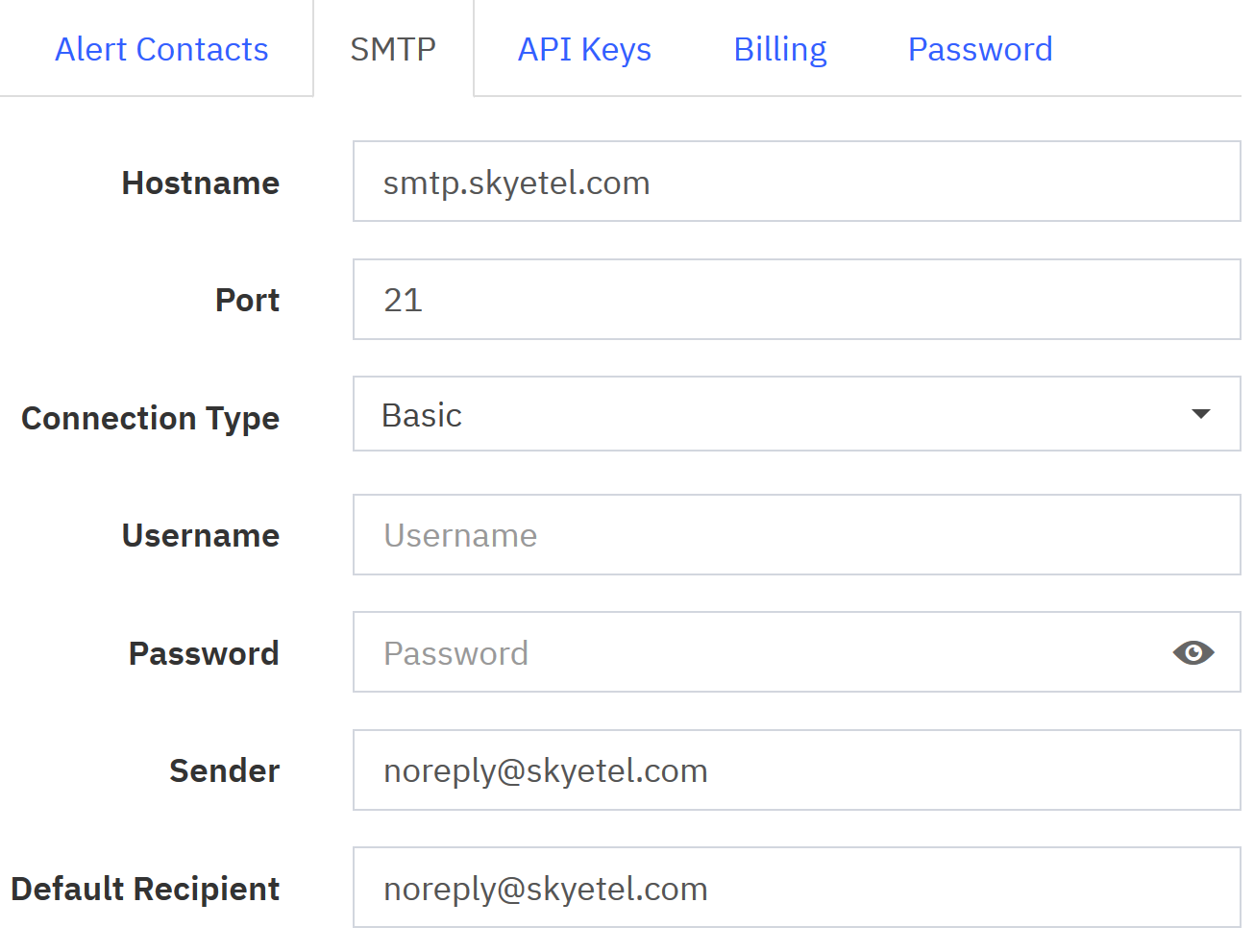 Please note - Skyetel Support is not able to help troubleshoot SMTP configuration problems, and we strongly recommend against using Google or Office365 for SMTP delivery. We recommend Sendgrid, Mailgun or Mandrill as reliable alternatives (we use Sendgrid ourselves)
Connecting Your Equipment To SkyeFax
All devices must use our SIP Registration gateways in order to connect to SkyeFax. Endpoint-based SkyeFax interconnection is not supported at this time. You can follow along here to configure your device via our SIP Credentials.
ATAs
Connecting the ATA to SkyeFax
To connect your ATA to SkyeFax, you will need to create a new SIP Credential for your ATA and select "ATA" as the device type: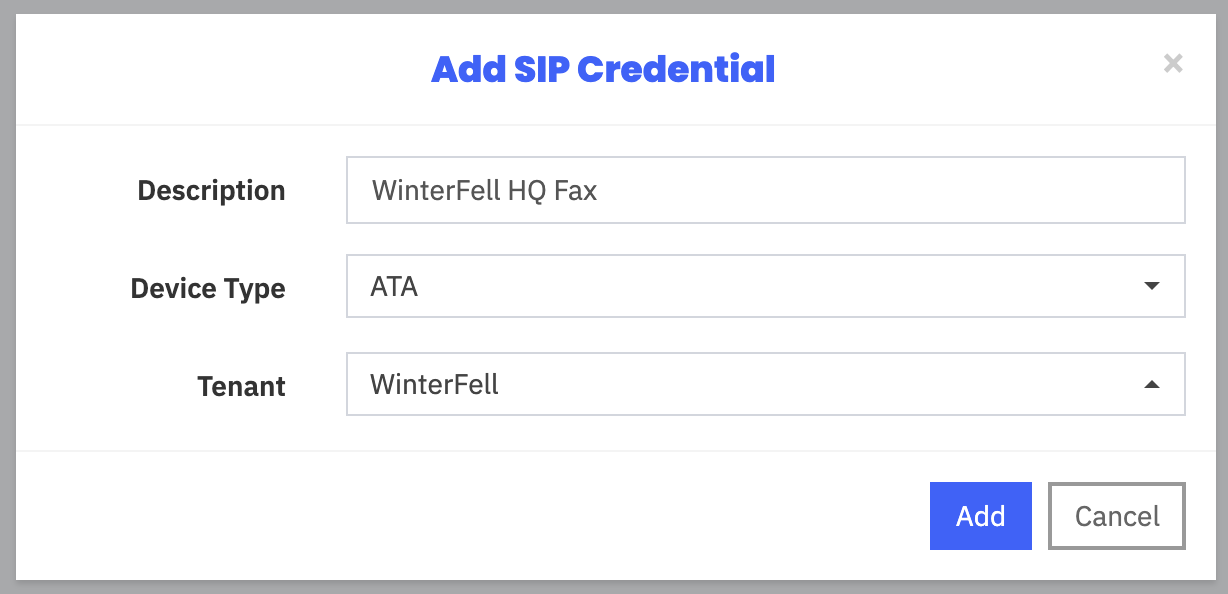 Supported ATAs
We do not sell ATA's and recommend you work with your regular phone vendor for these devices.
We recommend you read our best practises to configuring your fax machine for use of SkyeFax. You can do that here.
PBXs
There are circumstances where you need to connect a PBX to the SkyeFax system, and SkyeFax is pleased to support such a connection. By connecting your PBX to the SkyeFax system, you can offer your own portals, devices, or features that are unique to your service offering while enjoying the reliability of the SkyeFax system.
Please use 000077 as the prefix for outbound calls that you want to be routed through the SkyeFax system and insure you are using SIP Registration. SkyeFax does not work over our IP Authentication.
Sending Outbound Faxes
There are 4 ways to send outbound faxes with SkyFax:
Skyetel Portal
The Skyetel Portal supports sending a fax under Faxes -> Send a Fax: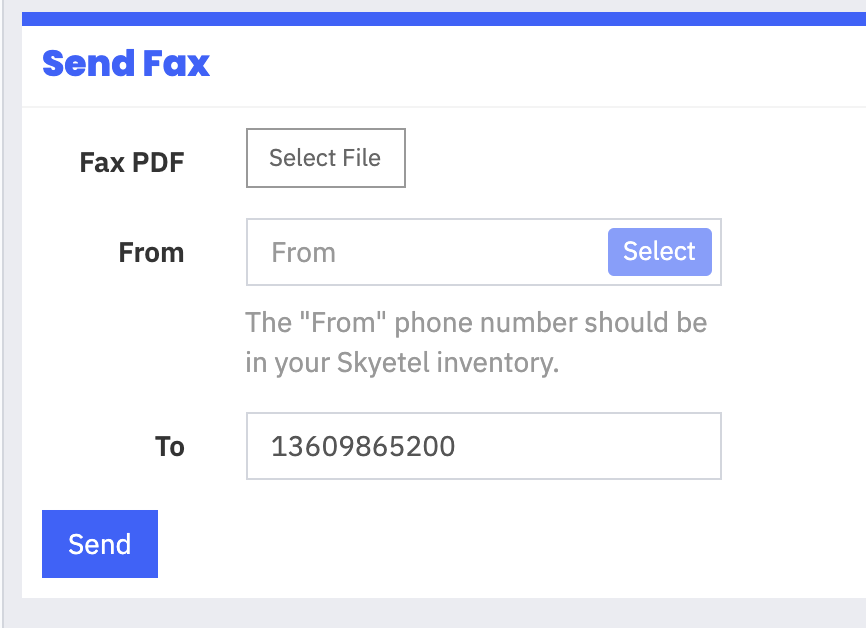 Email -> Fax
In order to send an email and have it create a Fax, you'll need to whitelist the email address in the Skyetel portal. You can do that in the Phone Number Features options: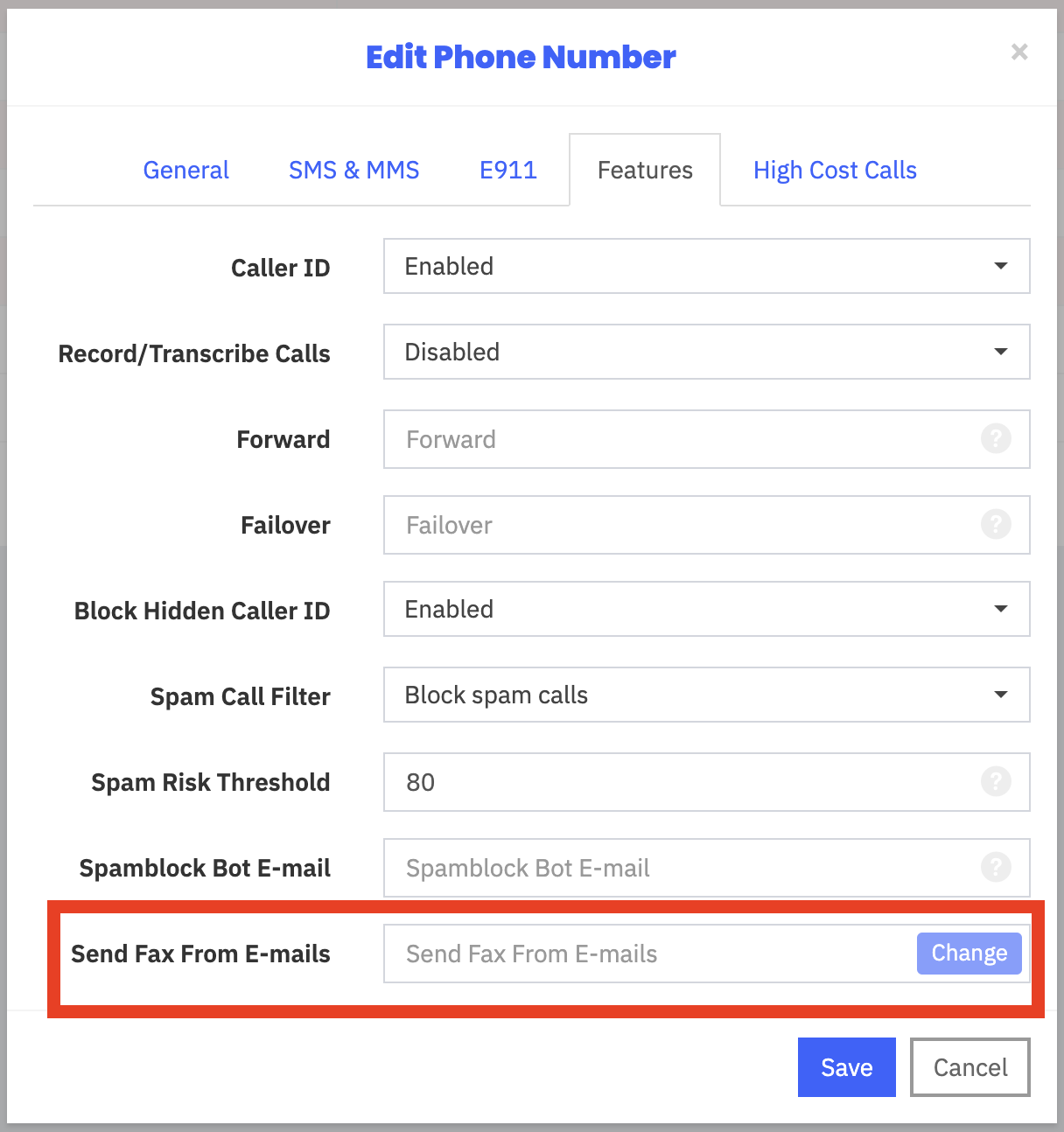 From here, you can add up to 25 email per Skyetel phone number: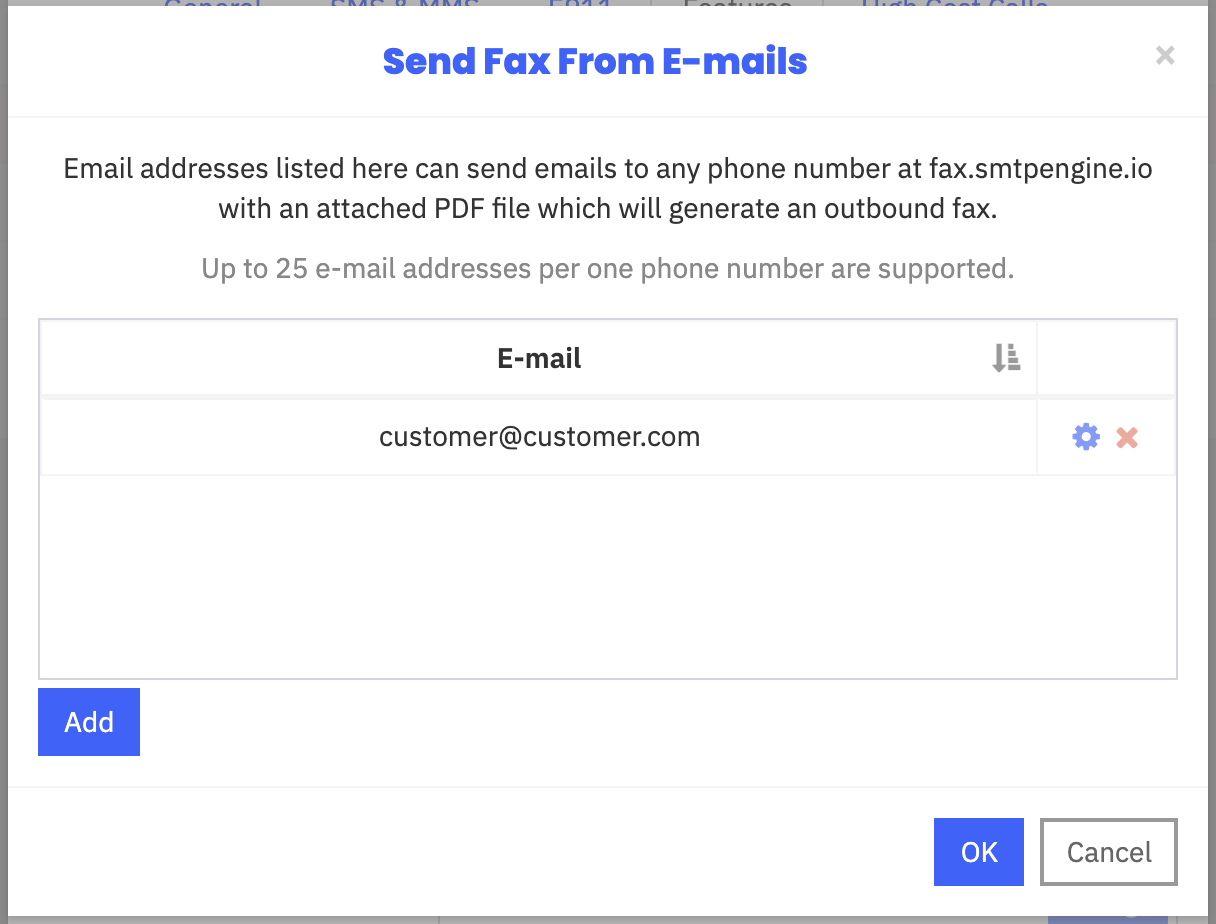 Once this is done, simply send an email to [destination fax number]@fax.smtpengine.io with a PDF of the fax you wish to send. For example - if you want to send a fax to 3609865200, you would email a PDF to 3609865200@fax.smtpengine.io from an email address that has been previously whitelisted in SkyeFax. The source phone number will be the number you associated the end user email with.
Skyetel API
You are able to send/receive faxes by using the Skyetel API. You can click here to learn more.
ATA/PBX
You are able to send an outbound fax via SkyeFax using a supported ATA or any PBX.