Overview
The Cisco SPA 112 ATA is a legend. Well known and trusted for its resiliency, it has earned our trust as our primarily recommended ATA for SkyeFax. Please note - this guide is only for use with our SkyeFax service. Do not follow this guide if you need to use your ATA for Voice Calls.
Provisioning The ATA
The Cisco ATA has quite a few settings that need to be updated for production use. The fastest way to configure them is to simply input our Profile XML Template. This will autoconfigure the ATA and do a firmware update so it is ready to go in a few minutes.
To do this, navigate to Voice -> Provisioning, and input the following Profile Rule:
https://files.skyetel.com/ata/cisco112/ata.xml

Then click Submit. The ATA will reboot a few times while it does a firmware update, and won't be available for about 5 minutes. Once that completes, you can register the ATA.
Pro Tip - Once the ATA has been provisioned, the Profile Rule will be removed from this field. So don't panic if it went missing after you applied it.
Registering the ATA
To Register the ATA after it has been provisioned, head over to Voice -> Line 1. Scroll down until you see the "Subscriber Information" section:

Replace these fields with the following:
Display Name - Caller ID (Name)
User ID - Outbound Caller ID in E.164 Format
Auth ID - SIP Credential Username
Password - SIP Credential Password
Enabling Line 2
If you need to enable Line 2, you will need to enable it. To do that, navigate to Voice -> Line 2, and enable it: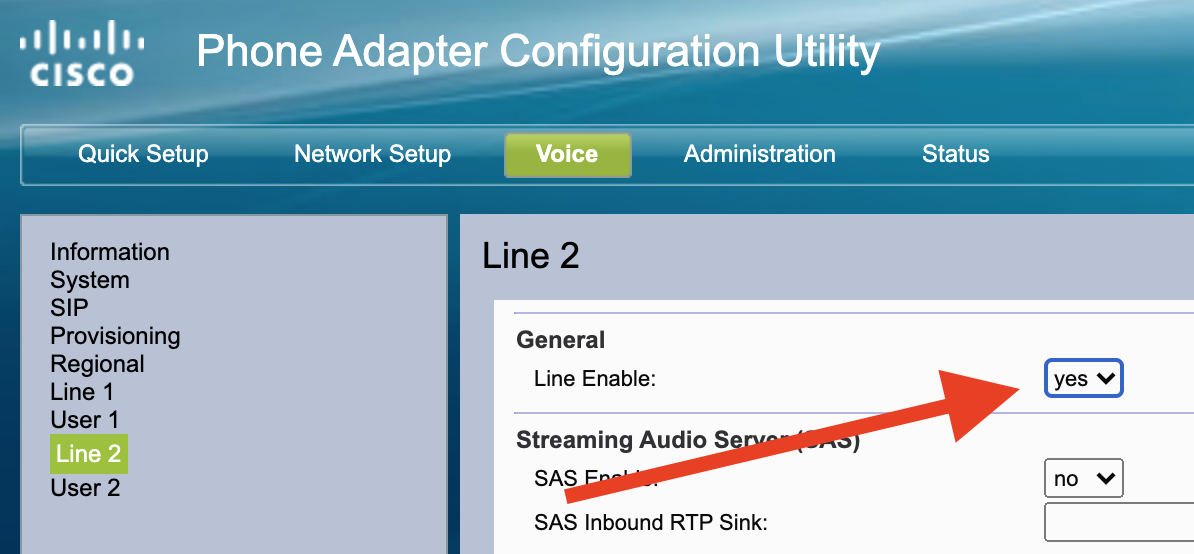 Then, you need to navigate to the "Subscriber Information" section and update the same fields you did for Line 1.
Please make sure you use a seperate set of SIP Credentials from Line 1. Using the same set of credentials will cause both lines to not work correctly.