Overview
Skyetel is a pre-paid service and does not offer post-paid billing. This means that your account must have a positive balance at all times in order to place and receive calls on our network. This is a common billing method for SIP Trunk providers like Skyetel and it is something that has become relatively common in many online services. Once your balance falls below $0.00, the Skyetel network will interrupt your ability to place and receive calls - so it is important to keep an eye on your balance.
Skyetel Balance
Your Skyetel balance is the dollar amount you have deposited into your account less any usage/monthly charges you have incurred since you made your deposit. The balance is always displayed on our Dashboard and looks like this:

At any time, you can click on "Add Funds" to top up your account. More instructions on that can be found here: Add Funds To Skyetel
Skyetel Auto-Recharge
As a convenience for our customers, you can also add a credit card to our network to auto-recharge when your balance falls below a certain threshold. By default, this is $100, but you can set it as high or as low as you would like.
When your balance falls below the threshold, we will automatically top up your balance by the dollar amount you specified as your Top Up Amount.
For example: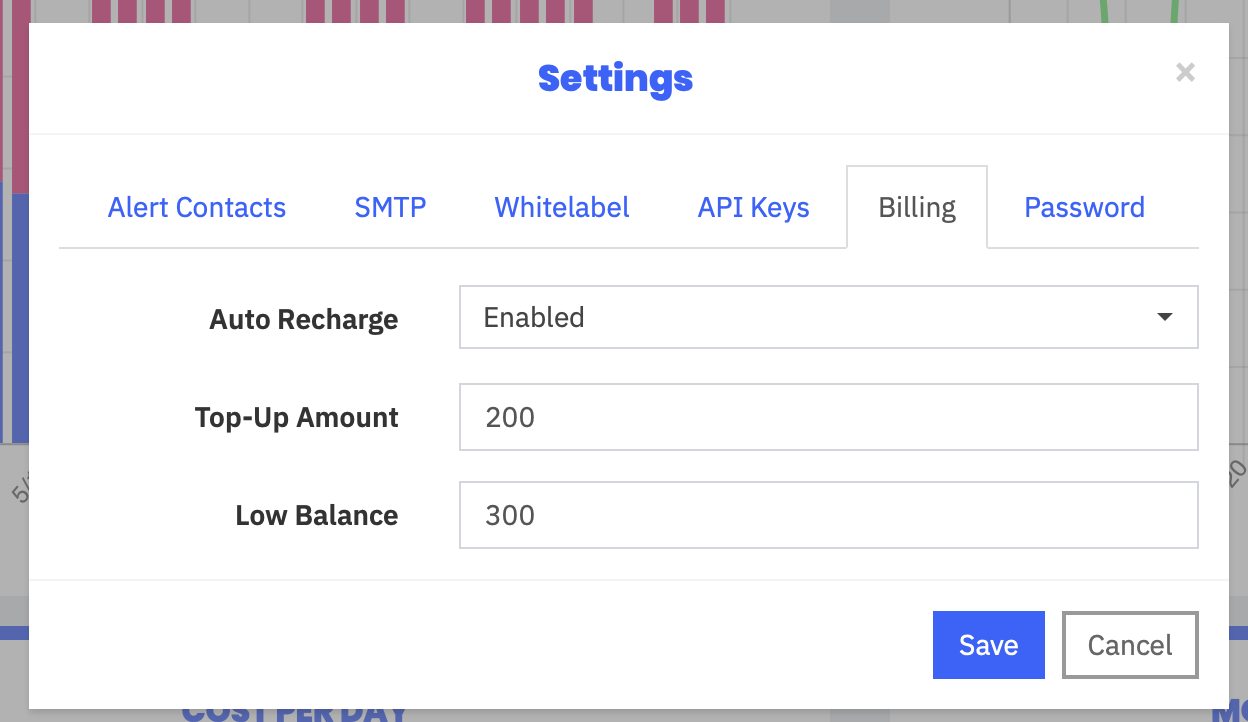 This setting indicates that when your balance falls below $300, we will charge your credit card $200 (or up to your fraud limit - see below) thereby bringing your Skyetel Balance up to $500.
Sometimes it is helpful to see the details a second time, so here we go:
Top-Up Amount - This is the additional amount above your Low Balance value that we will attempt to keep your account balance at. Please note that this is not the exact amount that you will see charged; the actual charge is commonly greater than this value.
Low Balance - This is the account balance where a Top-Up Auto-Recharge will be triggered.
Auto Recharge Limit - Your payment method will not be charged a sum total of charges greater than this limit per monthly billing period.
In summary, if you set your Top-up amount to $200, and your Low Balance to $300, the system will attempt to get your account balance back up to $500, charging as much as necessary to your payment method up until your Auto Recharge Limit is exhausted.
The Low Balance specified here is the threshold we use when we send you emails notifying you of a low balance regardless of whether you have Auto Recharge enabled or not
.
Inherent Lag
The Skyetel Billing system updates the balance on regular intervals that update faster or slower depending on the load on our system. When the load increases significantly (like in the morning when everyone starts making calls) the balance updates a little slower (so once every 30-40 mins) whereas when the load is lower (like during the regular day or at night) the balance updates faster. The balance is a living approximation of what you have available at any given time within a ~30 min window.

Please make sure you enable auto-recharge if you intend on keeping you balance as low as possible
Fraud Limit
Customers can use our Auto-Recharge up to their Fraud Limit. By default, the Fraud Limit is $1,000. This means that we will only auto charge your credit card up to $1,000 in a calendar month regardless of what you specify in your Billing Settings. This does not limit your ability to make payments manually; it only applies to auto-recharge.
The purpose of the fraud limit is to make it so your account does not auto-charge your credit card into oblivion because of toll fraud or a technical problem. To adjust your Fraud Limit, please open a ticket with Skyetel Support. You can see what your current fraud limit is in the Rates & Fees page located here: https://login.skyetel.com/#billing/rates.
Billing Types
Usage Billing
All of Skyetel's usage fees are deducted from your account balance in real time. These usage charges include applicable taxes, fees and any additional feature costs (like Caller ID or Spam Call Prevention).
Monthly Billing
Skyetel performs monthly billing between the 1st and 24th hour of the beginning of a new month. All billing is done in UTC - so the actual time of the monthly billing may fall inside the current month for your timezone.
When monthly billing occurs, our billing engine will count all billable items and charge you all at once. This includes things like Phone Numbers, Surcharges, E911, SMS Enablement, etc, and their corresponding taxes. Please be aware that this event will deduct from your balance all at once, and may catch you off guard. If you have Auto Recharge enabled, we will recharge your account automatically once monthly billing hits and protect you from falling into a negative balance.
All monthly billing is done up front (not in arrears) and we do not do any proration.
Transaction Billing
Transactions are charges that don't fall into either the Usage Billing or Monthly Billing category. An example of this would be purchasing a phone number from our portal.
Statements
At the end of the Monthly Billing Cycle (the 24 hour window at the beginning of a new month), a Statement will be generated outlining your total spend with Skyetel.
We take great pride in these statements and have done everything we can to make them as detailed as possible.
A note about rounding
Because Skyetel does not charge for usage on solid round dollar amounts ($0.01 vs $0.012), and because taxes are calculated based on percentages, our Statements and Dashboard will attempt to round the numbers to the nearest penny. Because of this, the statements may appear to have very small math errors. This is expected behavior and is not a bug. Our billing engine keeps track of the customer's balance to the 6th decimal position - so there is a natural break between what our customers are accustomed to seeing and what we are keeping track of.
For example, if your Balance is $532.214837, we will display it as $532.21.