Overview
One of the most powerful parts of the Tenant Billing system is the ability to automatically collect all of the taxes and fees your customer owes for their telecom services. This system is the same system Skyetel uses for our own monthly billing, and is part of our deep integration into CSI.
Collecting taxes is only the first half of the compliance challenge. Remitting the taxes you've collected is the second half. For users who want to do this themselves, you can use the Tax Reports so you can accurately remit your taxes. However, we recommend using CSI for this instead.
Tax Reports

In order to help you remain compliant with Taxes, we have created a Tax Report that allows you to export all of the taxes you have collected from your customer. We use the CSI Recommended Format for these reports. This will allow you to simply export your monthly report to CSI and send it on its way to them. As an example, here is an excerpt of what the report looks like: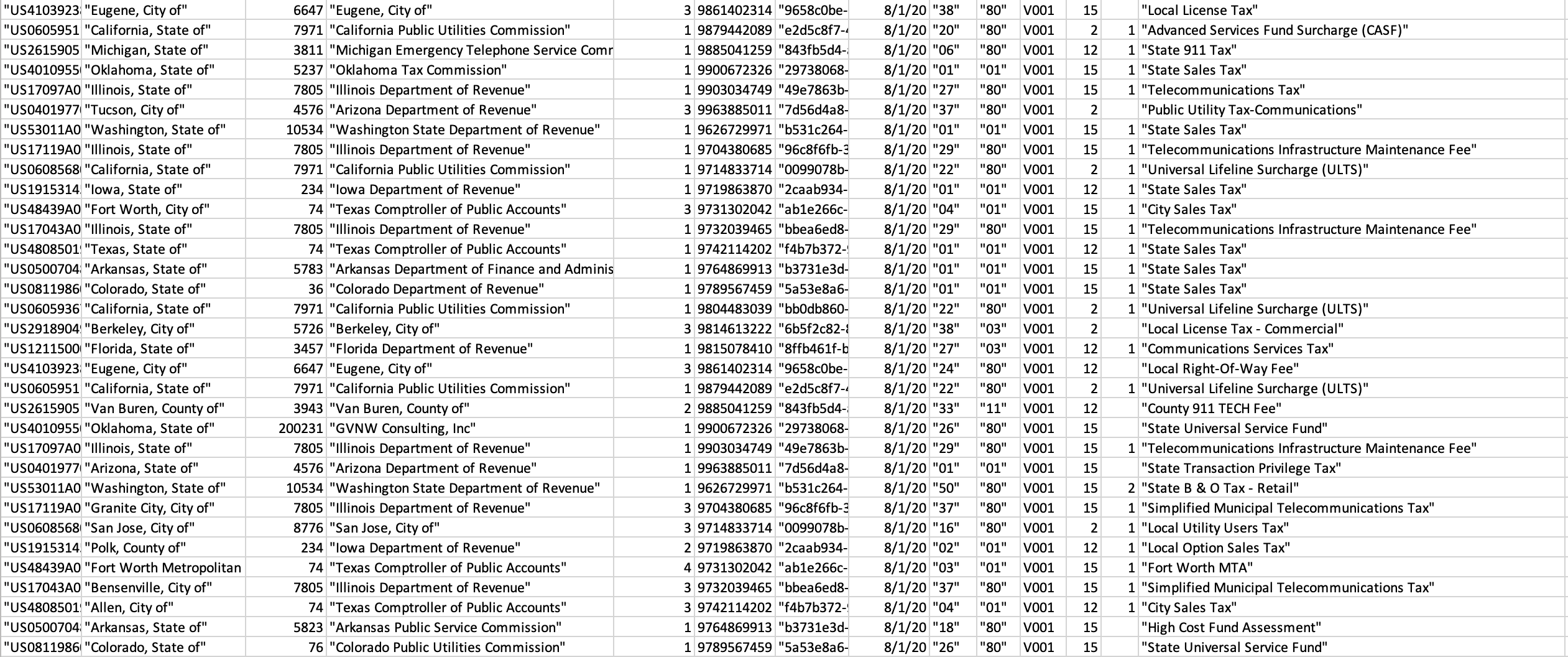 CSI & Tax Remittance
CSI is a taxation and compliance company that provides Skyetel an API that we use to programmatically identify what taxes are applicable when your Tenant Invoice is generated. This system uses the billing ZIP code associated with your Tenant.
In order to remit these taxes, we recommend that you use CSI. CSI is the company Skyetel uses for all of our own Tax Remittance - and we're in good company. Many of our competitors and even some of our major upstream providers use CSI for their own Tax Compliance. They are very very good at what they do.
CSI Pricing
CSI has agreed to allow us to share their introductory pricing tier with Skyetel customers. You can find this information on our Rates & Fees page located here: https://login.skyetel.com/#billing/rates
CSI University
Among all of the awesome services that CSI offers, one of our favorites is that they have ongoing education classes about all thats new in telecom taxes and regulations. These classes are free, and are really informative. You can read more about them here.
Seriously - Use CSI
We love CSI, and talk about them fondly all throughout our support documents. This is because they have made an enormously tedious task very easy. At the beginning of each month, Skyetel sends CSI a report (the same report we generate for your Tenant Billing) that outlines all of the taxes we have collected on behalf of our customers. Within a few days (and after confirming with us), CSI drafts all of the taxes we collected for that month into an escrow account that they use to pay all of the correct taxing authorities.
In addition to CSI being fantastic at what they do, they are also really responsive. We've emailed them over the weekend to ask a simple question and they get back to us right away. It's awesome.
Lastly - CSI has a portal where you can download a full breakdown of what taxes were paid on your behalf and how much they were. This makes accounting a breeze and gives you the comfort of knowing that your taxes are being paid accurately and on time.