Getting Started
Each trunk is displayed in WMS -> Trunks in the corresponding section (SIP) with real time registration status.
SIP trunks must be added manually. To add a SIP trunk, click "+" icon below the SIP trunk table.
Each trunk is displayed in the corresponding section of the page with the following information:
Country code
SIP registration status (outgoing or incoming, depending on the SIP trunk configuration):

Green: trunk is registered
Grey: trunk is not registered

SIP Trunk Settings
Wildix features numerous parameters, but we will only address those pertinent to your Skyetel connection with recommended settings below:
Title: Enter a description of the trunk
Trunk name: Enter a trunk name
Auth Login: Enter your Username. You can view your SIP Credentials in the "SIP Credentials" view in the Endpoints section of our portal.
Address or Host Name: reg.skyetel.com
Note: reg.skyetel.com is an SRV record. This is supported by Wildix, but if you are having difficulty implementing with this, you may alternatively setup trunks for nw1.reg.skyetel.com and se1.reg.skyetel.com.
Password: Password for SIP authentication. When you create a new set of SIP Credentials, our network will automatically create a Username and Password for you. The password will only be displayed at the time of creation in the Portal, so please note this down.
Keep-Alive: YES
Enable registration: YES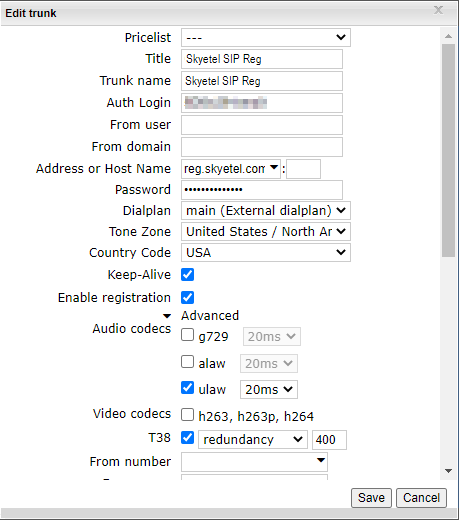 Advanced

Audio codecs: ulaw
T38: YES
Incoming CID: p-asserted-identity,from
Show original caller number: YES
Support Refer and Hold: YES
Session Timer: YES (min 90, max 300. Adjust to fit your needs)
Rport: INVITE
Registration Expiry (sec): 120 seconds
Transport: UDP
DTMF mode: rfc2833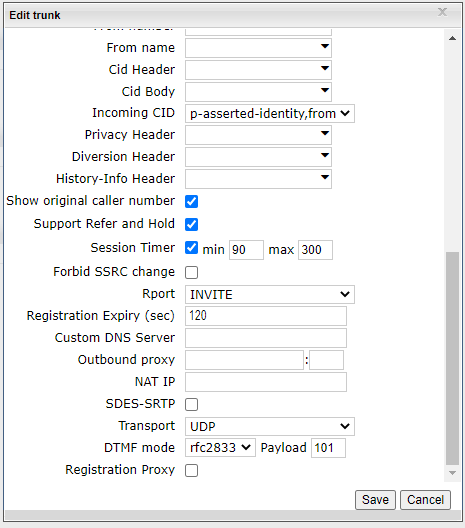 Pro Tip: Ensure your selected SIP Format on your Skyetel DIDs matches how you have your DIDs entered in your Wildix Dialplan.