Overview
Under normal circumstances, Skyetel uses a flat-rate billing model for all outbound calls. This keeps our billing easy and our customer experience simple. We are able to do this because the majority of conventional domestic calls incur a cost that is, on average, low enough for us to offer it as a flat rate while still keeping our lights on.
Unfortunately, the world is still a big place in telecom, and the costs to place international calls are so high that we have to use a technique called LCR Billing. This technique means that each and every number you call incurs a unique per-minute rate. For example, calls to Berlin will cost different than calls to Frankfurt, despite the fact that they are both in Germany. (In fact, calling two different German cell phone numbers in the same city can even have their own costs). All in all, there are over 160,000 different routes that each have their own per minute charge.
In addition to International locations, like Germany or Belgium, there are also High Cost regions that aren't "technically" international locations. Places like Guam, Puerto Rico and the US Virgin Islands are still a part of the United States, but are so expensive to call that we protect our network and our customers from accidentally or fraudulently dialing those areas. To further confuse matters, there are International locations that are not a part of the United States, but still use the North American Number Plan (NANP for short); this means that the phone number looks just like a conventional American number. These places include Jamaica, Barbados, Saint Lucia, etc. For example, if you want to call the Hilton in Montego Bay in Jamaica, the number is (876) 953-2650.
This is significant because conventional carriers will allow you to dial those areas without warning and will charge you huge international rates. Thus, there exists a huge grey area that hackers exist in where they are able to cause enormous fraud damage by hacking into people's phone systems, and then calling those areas over a weekend.
Therefore, we are bucking the trend. Skyetel requires all calls outside of Canada, Alaska, Hawaii and the Mainland USA to go through a special set of High Cost servers in order to protect our customers from fraud risk.
Fraud
Before getting into the nitty gritty, it is important to understand what fraud is, and why we are so adamant about protecting our customers from it.
Broadly speaking, fraud is caused by a malicious third party hacking into a phone system and then routing their own international traffic through the compromised phone system. This gives them access to international locations for free, while the poor hacked phone system gets stuck paying enormous fraud bills. The third party can then sell things like fraudulent calling cards to unsuspecting victims who use them to make international calls. Another kind of fraud, Toll Fraud, is even scarier. In these cases the hacker will direct the phone system to place huge volumes of calls to an International Toll Free number - not only do they own this number, they've also set a huge per-minute rate as well. These kinds of attacks are more rare, but can easily result in $30k phone bills.
This is unacceptable and so we built something awesome to protect you.
Skyetel's High Cost Service
Overview
The Skyetel High Cost servers are especially designed with additional security methods to allow you to expose your phone system to expensive places while still protecting your account's balance. The security philosophy we've used in building this service contains the following concepts:
Unless otherwise needed, the Phone System administrator does not need to add the High Cost servers to the PBX. This completely prevents any technical ability to route calls to High Cost destinations.
Skyetel Customer's are not able to route through our High Cost servers without first contacting support to have their account enabled for High Cost routes. (this protects your Skyetel account from being compromised as part of a more sophisticated attack).
Once enabled, The Skyetel system allows you to enable, and set a Fraud Limit for, each phone number (rather than on each endpoint). This lets the phone system Administrator allow a particular user the ability to place international calls without enabling it for the entire phone system.
The fraud limit assigned to each phone number is updated every 60 seconds - once that fraud limit is exhausted, the call is ended by the Skyetel Network, and that number is unable to place further High Cost calls without intervention by an administrator. This will allow you to protect your Skyetel balance, while still providing a limit to your risk .
An Administrator can specify a risk level limit to a phone number. This allows a user to call France, but not Afghanistan.
These concepts, along with a few top secret ones, will work to protect your Skyetel balance from the evil people on the internet.
Trust Tiers
One of the core mechanisms to our fraud prevention is the use of Trust Tiers. A Trust Tier is a per minute rate limit applied to a group of destinations that may be dialed out through Skyetel. The higher the Tier, the higher the per minute rate is.
The Trust Tiers are as follows:
Tier 1 - Domestic calls only. This is the default limit for new customers.
Tier 10 - Low Rate High Cost routes enabled. This means any route under $0.03 per min (this covers about 51% of all our routes)
Tier 20 - Medium Rate + Low Rate High Cost routes enabled. This means any route under $0.50 per min (this covers about 91% of all our routes)
Tier 30 - All Routes. We don't recommend enabling this unless you absolutely have to. All routes are enabled. (as of this writing, the most expensive route is $30 - thirty dollars! - per minute)
Tiers are set in two locations, one by Skyetel Support and one by the Administrator. This allows for a CTO to have a hard limit set on the Skyetel account despite what a Skyetel User attempts to enable. Skyetel does reserve the right to reduce a customer's Trust Tier if they are repetitively victim of fraud.
Getting Started
In order to place any high cost calls through the Skyetel Network, you first need to do the following:
Add the High Cost IPs to your Outbound Gateway - you can get those here
Contact Skyetel Support to have your account enabled for High Cost access. You can do that by clicking the ? at the top right corner of the portal
We strongly recommend double checking your firewall access rules prior to enabling High Cost calling.


Enabling a Phone Number for High Cost Calling
Despite all the overview above, enabling High Cost calling is actually very easy. First, select the phone number you would like to modify and click the little gear:

Then, Under the International Tab, you can choose which Trust Tier you would like to use and specify your fraud limit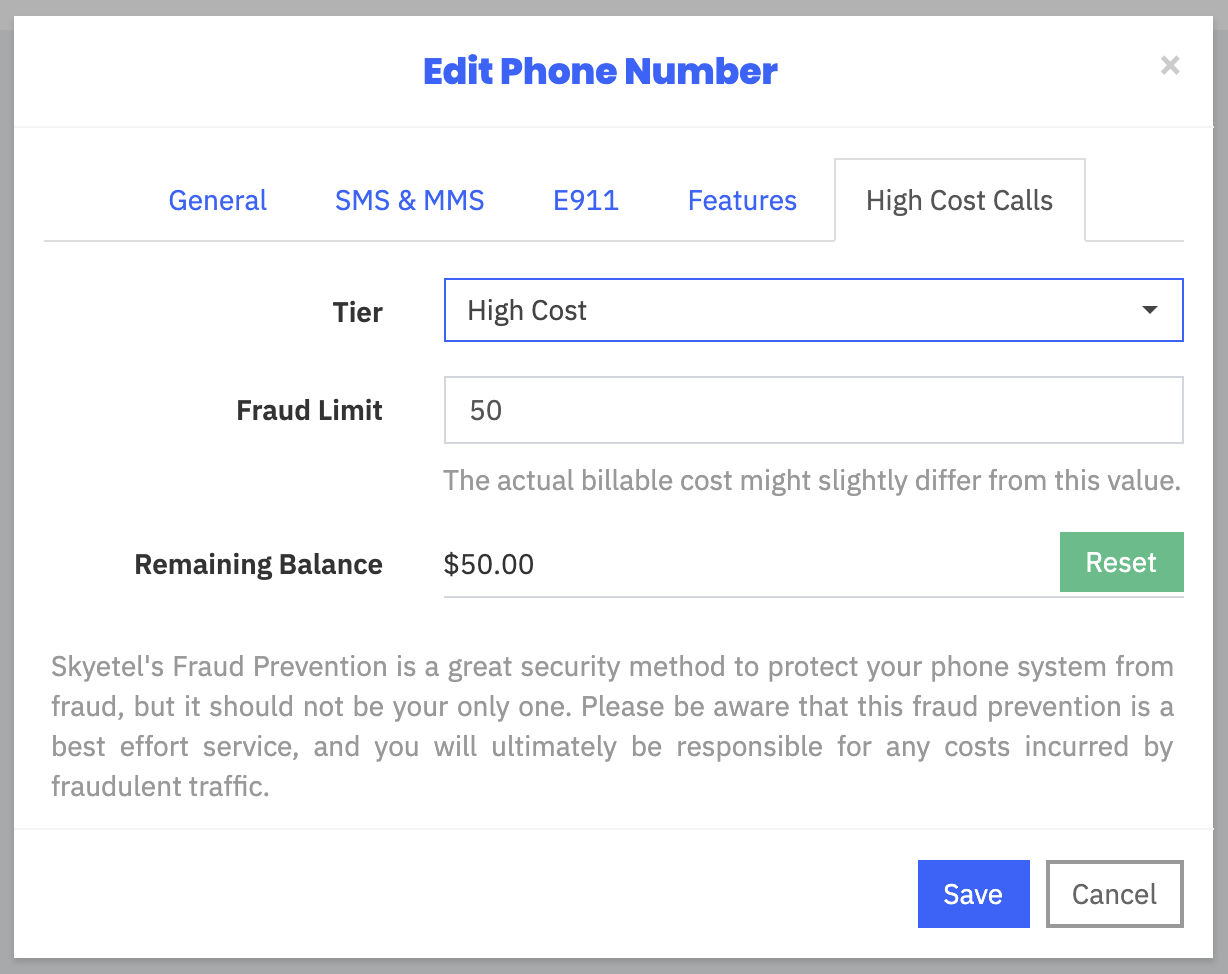 The Fraud Limit you specify will reset automagically on the first day of the month. If you accidentally use up your Fraud Limit, you can click "Reset" in order to bring the Fraud Limit back up to the amount you specified.
Outbound CID
When placing international calls over our High Cost Calling gateways, your outbound Caller ID must match the 11 digit number you enabled for High Cost Calling.
For example - if you enable High Cost Calling on the phone number 13609865200, please make sure your outbound Caller ID number is 13609865200 exactly.
Channel Limits
The Skyetel High Cost Routers only allow up to 3 channels per CID per region. This effectively allows a maximum concurrent channel limit of 6 provided you have configured your systems to use both of our regions. If you need additional channels, you will need to allocate a new phone number and assign it to the user. Skyetel support cannot increase this channel limit.
Dialing International Destinations
When you are dialing an international destination that is not a part of the North American Numbering Plan (like Germany or France), please preface the number with 011. While our network will accept calls without the 011, many of our upstream gateways won't. So please preface your International numbers with 011.
Important Disclaimer
This fraud prevention service is an excellent security technique that we are proud to offer - however it should not be the only steps you have taken to protect your phone system from fraud. Firewalls, complex passwords and regular maintenance are all critical to insure you are safe. Please be aware that if your phone system is compromised, and our fraud prevention tools fail, you will still be responsible for the costs of the international traffic.